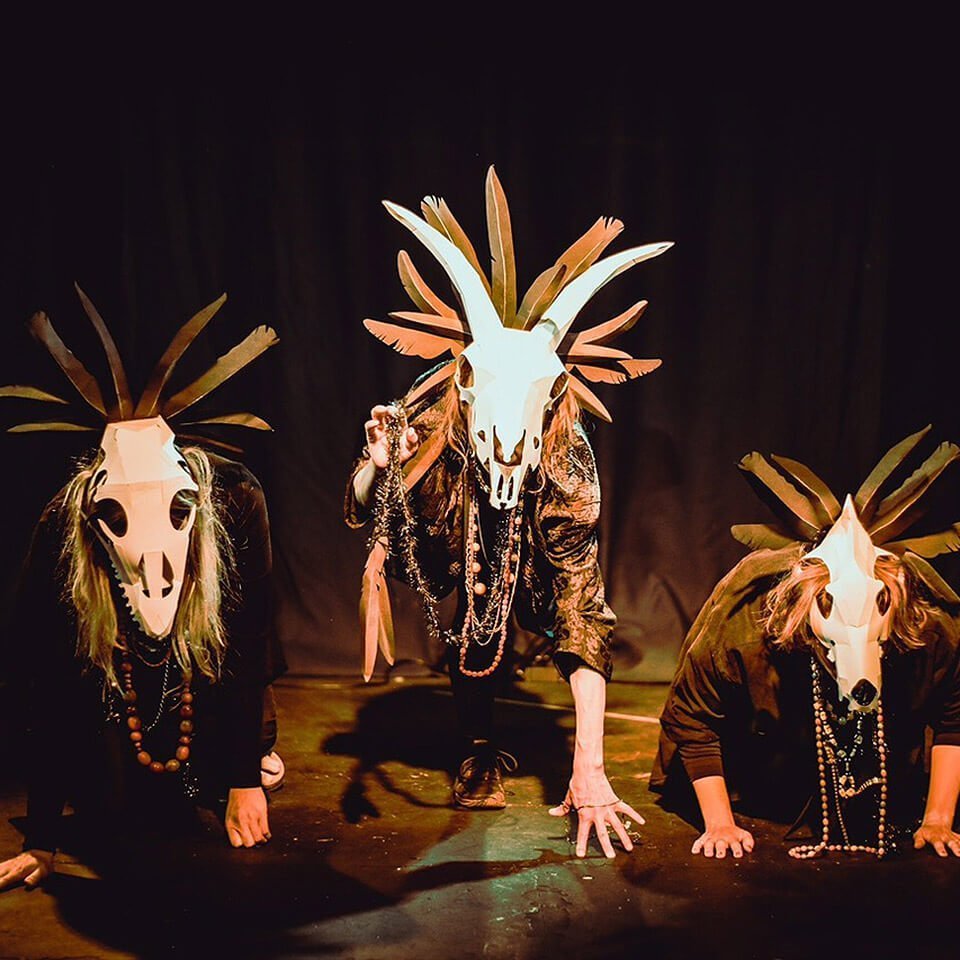 Skylla/Ruth Goller & Pete Wareham + DJ
TICKETS AVAILABLE ON THE DOOR FROM 6….
Our Planet Purbeck ticketed evening presents two different acts who have also collaborated in the past.  Starts from 7pm, bar open all afternoon and evening. Tickets £15/£12 concession – see side bar or end of post.
Ruth Goller is a highly acclaimed punk/jazz bassist and composer (Melt Yourself Down, Vula Viel). Her solo project SKYLLA with celebrated vocalists Lauren Kinsella and Alice Grant was listed among The Guardian Top Ten Jazz albums of 2021. Ruth has played with Shabaka Hutchings and performed with Sir Paul McCartney. Pete Wareham (X-Acoustic Ladyland) is a multi-award winning innovative saxophonist who has played among Mercury Prize nominated bands (Polar Bear, Sons of Kemet) and currently Melt Yourself Down whose album "Pray For Me I Don't Fit In" was The Guardian album of the week April 2022.
'SKYLLA' is the solo project of composer and bassist Ruth Goller (Melt Yourself Down, Rokia Traore, Sam Amidon, Vula Viel). Featuring herself on bass guitar and vocals, as well as featuring outstanding UK vocalists Lauren Kinsella (Snowpoet) and Alice Grant (Matthew Herbert), the music takes inspirations from Bulgarian folk song, Free Jazz, 'Joyce' and the Italian Alps from where she hails. Skylla is a collection of bewitching compositions, featuring bass guitar harmonics in different tuning systems sparkling underneath other-worldly polyphonic songs.
'SKYLLA' takes after the mythical three-headed sea monster of the same name, in that their music is both mysterious and sometimes dangerous – in its own intimate and unique way.
"No mode of listening was as intense, however, as that brought to bear by bassist/vocalist Ruth Goller, an intimacy so deep it felt almost blasphemous to be privy to its wonders" Tryan Grillo, ECM Reviews
"Lush textures to bath in" Cory Mwamba, BBC Radio 3
"A rounded tone and springing attack that constantly underpins the musical shape and character, a deep experience" John Fordham, The Guardian
---
PETE WAREHAM
A solo show by renowned saxophonist Pete Wareham, exploring synasthesia and improvisation.  Pete Wareham has associative synasthesia which is the ability to see colour when he hears music.
Projecting colours onto a screen with an iPad and dressed all in white so he is absorbed in colour, Wareham creates multiverses of sound using saxophones and effects. Sometimes the changing colours direct the music, sometimes the music directs the changing colour. The improvised music draws on the energy and emotion of the audience and Wareham sees himself as a conduit, translating the vibrations in the room into sound. This sense of togetherness and audience participation is explored later in the set when the iPad is passed around, giving members of the audience the chance to direct the projected colour.
Wareham says : ' I feel we all have the ability to associate sound with colour and this project is an attempt to help people allow themselves to experience these nuances of energy, in a spontaneous and flowing atmosphere'
Pete Wareham formed Acoustic Ladyland (BBC Jazz Award Best Band 2005) in 2001 after an early career bridging the National Youth Jazz Orchestra and many notable performances, including appearances at New York's Blue Note Club, London's Ronnie Scott's Jazz Club as well as jazz venues all over the world. Melt Yourself Down, his next band, was described by the music press as 'a vivacious, phantasmagorical melting pot' and by The Times as 'Melodically adept, rhythmically inspired…mind blowing magnificence'
Pete Wareham prefers not to be pigeon-holed in the jazz scene, taking influences from hiphop, rock, pop and global music, especially North African and South American among many. 'My favourite kind of jazz is when it feels dangerous' Wareham says and he wants to put people back in touch with the time when jazz 'was subversive, wild and dirty.'
Since then Wareham has been developing various projects, mostly in the form of improvising groups with a constantly rotating cast of musicians including Ruth Goller.
Pete and Ruth will improvise together between the two sets, and the evening finishes with Pete's DJ set. BAR and Pop up Cafe all evening.
It's marquee/open air – so please dress accordingly and bring your own seating. Nearest parking is either in village or the National Trust car park – or you could take advantage of the regular bus service through Purbeck, or even take the train from Swanage or Norden.  We are a five minute walk from the village square, through the railway station and over the footbridge rather than along the main road.   There will be no car parking on site during the weekend Festival or that evening.
We will have limited seating: a mix of hay bales and some folding chairs on a first come-first-served-basis. Like the many other local outdoor performances, please bring your own camping chair or similar if you want to be sure to sit down, and dress for a Purbeck September evening…
Do let us know if you need seating or parking because of a health issue – we will try to sort something out for you.