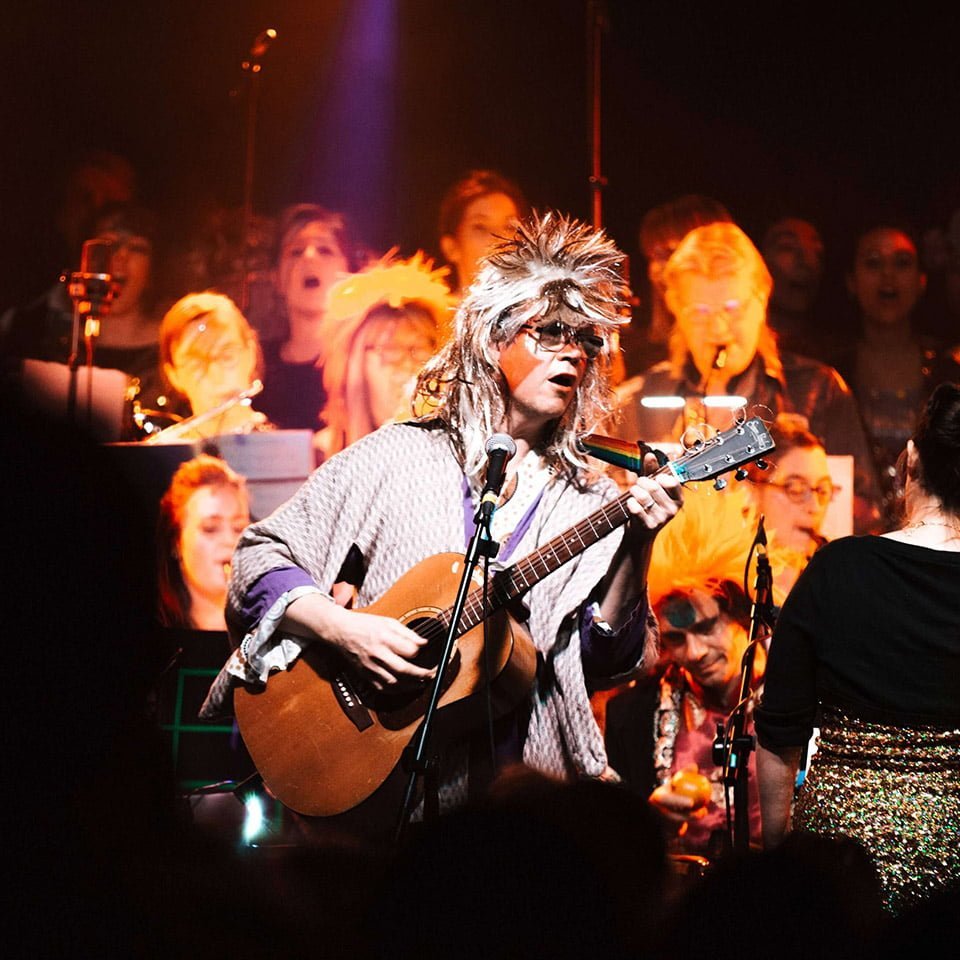 The Fantasy Orchestra
SATURDAY 13TH AUGUST 2022
One of the most entertaining nights of music you'll ever experience. With pop-up catering and bar.  Performance from 4pm.
The Fantasy Orchestra is a community project led by Jesse D Vernon based in Paris and Bristol. The Orchestra (motto: 'World Peace One Note At A Time') brings together 50+ musicians, professional and amateur, to create a kaleidoscopic symphonic brigade. Their eclectic repertoire covers film soundtracks (Morricone, Barry, RD Burman), rock and pop favourites (Hendrix, Beatles, Bowie, Radiohead) and some more obscure treasures. Think psychedelic loveliness, rousing choral noise and some choice costumes. A surreal musical adventure where The Good, the Bad and the Ugly segues into Leonard Cohen's Hallelujah and Bowie's Moonage Daydream seamlessly slips into Donna Summer's I Feel Love via The Wombles.
Performance starts at 4pm. New local food pop-up The Sprout & Bean will be serving from alongside the bar, from around 12 – we also have Rob Mills playing his regular #saturdayhillsaturday slot from 12….
"I can't remember having such an entertaining, fabulous evening in ages! Incredible!"
Christina S, Keynsham Music Festival 2016
"For all the fun-filled antics the Bristol Fantasy Orchestra is actually a seriously brilliant musical experience."
Bristol247, Bristol Harbourside Festival 2015
"Oh my goodness, what a revelation Bristol Fantasy Orchestra was! I can't remember having such an entertaining, fabulous evening in ages! Bristol Fantasy Orchestra and choir are completely bonkers, amazingly talented musicians that had the most eclectic repertoire I've ever heard! It included Dr John (the Night Tripper)'s Gris Gris, the theme tune from Star Trek (which we all had to sing along to!), John Lennon's Imagine, two songs from the movie The Wicker Man, Queen's Bohemian Rhapsody and an Indian song from a Bollywood movie! They involved the audience in everything. Incredible! They must be included in every future Keynsham Music Festival until the end of time!"
Christina, Keynsham Music Festival, July 2016
The orchestra have released an album, The Bear and Other Stories documenting the huge community of talent, love, dedication and positive energy brought about by members of the orchestra. About 160 of them, mostly amateur musicians and singers are on the record! Available on vinyl, CD and for download here.
Please note – there will be no car parking on site that evening but National Trust have kindly offered their car park for free for the performance – it's a five minute walk to Sandy Hill Arts. Please get in touch if you have mobility issues and feel this would be a problem. We have limited seating: a mix of hay bales and folding chairs on a first come-first-served-basis, that will be cleared to the sides when Pop-up Bowie comes on stage. Like the many other local outdoor performances, it would be best to bring your own camping chair or similar if you want to be sure to sit down. Do let us know if you need seating because of a health issue – we will reserve something for you.
The Fantasy Orchestra - Free Ticket ticket sales has ended!